If there's one item most God-fearing Christian men share in common, it's the Bible. To this day, thousands of years After Death, it offers guidance in both good and bad times, with some men even crediting it for salvation found in their darkest hours.
While many men know to treat the Bible with care, modern life sometimes gets in the way of those sentiments, leading to wear-and-tear from spills and other mishaps. Luckily, Bible covers exist to solve this issue. This article reveals the best Bible covers for men, so keep reading to learn how they can protect your Bible.
Why Should You Get a Bible Cover?
Why should you get a bible cover? If you're still on the fence about whether Bible covers are necessary, this section should prove illuminating. We provide a couple of reasons below as follows:
Protecting Your Bible From Wear: Bible covers protect Bibles from wear and tear they'd sustain otherwise when left lying around. These covers are usually made with durable materials like leather, shielding their contents from wet, sticky, or, in some cases, flammable substances.
Extra Space: Bible covers don't just hold Bibles: they can also hold accessories. Most of them come with pen loops for holding pens, highlighters, and so on. Additionally, they have interior and exterior pockets where you can store your notes.
Carrying Big Bibles: Some Bible covers can hold extra-large Bibles and make it more convenient to carry them around. You'll find them especially useful if you move your Bible around a lot.
Design and Style: Bible covers come in different styles and designs, meaning you can choose one that reflects your style or which you strongly identify with. For example, if you're an introvert, you can choose a Bible cover with a low-key design. The opposite is true if you're an extrovert.
Inspirational Scriptures: Some Bible covers have famous bible verses in their design. These scriptures are either debossed or embossed into the bodies, offering inspiration before you've even opened your Bible.
Save Your Page: The Bible is full of surprises, meaning you can happen on scripture that inspires you. Since no one can memorize the entire book, you'll need to bookmark the chapter and verse. Luckily, some Bible covers have a bookmark that serves that very purpose.
Conversation Starter: Some Bible covers have interesting designs that make excellent conversation starters. For example, if you're new to a Church, your Bible cover can catch a veteran member's eye and encourage them to introduce themself.
Finding the Right Bible Cover for Your Needs
When choosing a Bible cover, you'll need to consider a couple of factors. They include:
Different Sizes of Bible Covers: There are as many Bible cover sizes as there are Bible sizes, so you'll need to choose one that can fit your Bible. If you choose one that's too small, you're Bible won't fit. Go too big, and there'll be too much room left over, making for an odd carrying experience.
Comfortability for Daily Carrying: Most Bible covers come with a handle you can use to carry your Bible. These handles are always on the Bible cover's spine and are usually made of leather. Without a handle, the Bible cover won't be as comfortable to carry around.
Choosing the Right Cover for Specific Occasions: If you're shopping for a loved one, you'll be happy to know that there are Bible covers that fit specific occasions like birthdays and anniversaries. Moreover, because Bible covers vary in design, you can find covers suitable as gifts for different professionals, including doctors and teachers.
Choosing the Right Design: Perhaps you want a low-maintenance Bible cover. In that case, you'll need to pay attention to its design. Some Bible covers are made of cloth, which means you'll need to hand or machine-wash them frequently to keep them clean. Meanwhile, choose a faux leather Bible cover if you want one that cleans quickly.
Within Budget: You should know how much you're willing to part with before you begin looking for a Bible cover. Even though you can't put a price on protection for God's word, extravagantly-priced Bible covers should give you pause. However, be careful not to set a budget too low, or you'll purchase a low-quality product.
Color Considerations: Thanks to the pliable nature of the faux leather used to make many Bible covers, you're not restricted to black and brown ones. Bible covers come in different colors, meaning you can find one in your favorite color.
Handmade or Manufactured: Finally, you may choose between handmade Bible covers or manufactured with machines. Handmade Bible covers are more personal and have a unique charm to them. Meanwhile, machine-made Bible covers may last longer, containing more durable materials.
5 Best Bible Covers for Men
Now that we know what makes having a Bible cover necessary and how to find the right one, it's time to check out the five best Bible covers for men.
Leather Bible Covers for Men
The Divinity Boutique Bible Case for Men and Boys is one of the best leather Bible covers for men available. This faux leather Bible cover is excellent for carrying your Bible, whether you're attending Sunday service, storing your Bible before studying, or traveling. At home or on the go, you can count on this Bible cover to keep your Bible safe.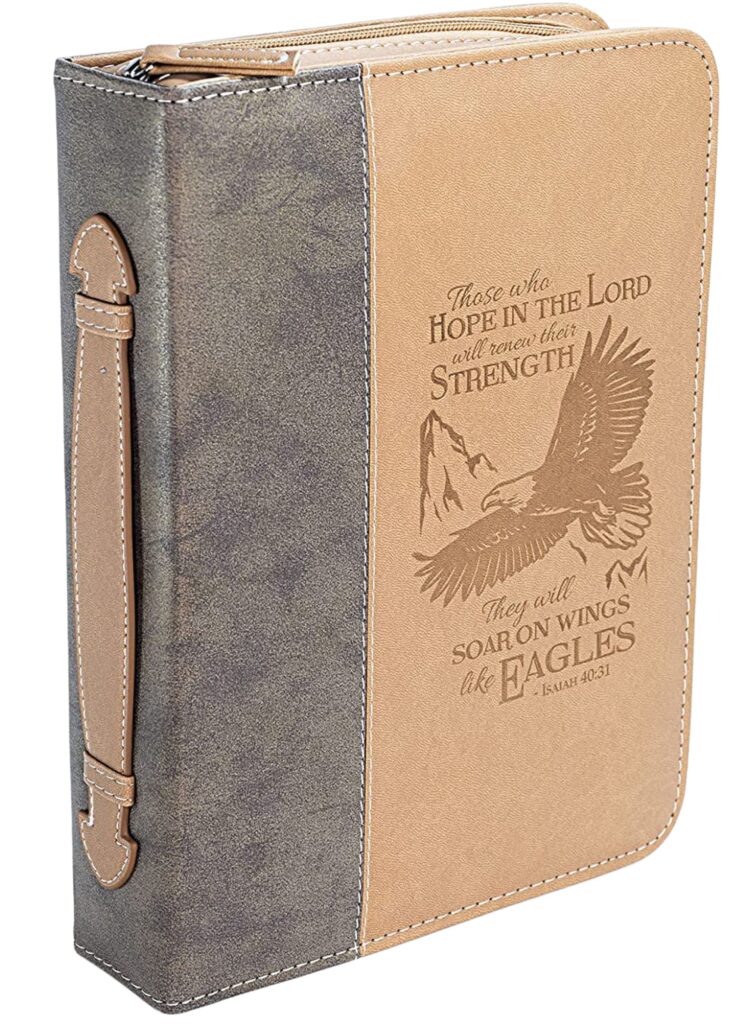 Divinity Boutique manufactures its Bible case in three sizes, medium, large, and extra large. The largest size measures 10" x 7.5" x 1.5", with all sizes featuring a lay-flat handle on the spine that makes the case easier to carry along briefcase-style.
Moreover, it features hopeful words plucked from the book of Isaiah (chapter 40, verse 31) and a vision of an eagle soaring over the mountains etched into the leather. Meanwhile, the tan and marbled gray leather casing are durable, protecting the Good Book from spills, dust, and other mishaps.
When you open the zipper along the cover's full length, you'll find a spacious interior with enough room for study notes, a notebook, a pen, and other Bible-study-related paraphernalia. You can secure these accessories using the two sleeves inside and the pen loop. Divinity Boutique's cover is the perfect male coming-of-age gift for baptisms, confirmations, etc.
Another fantastic choice among leather casings for Bibles is the Christian Art Gifts Men's Classic Bible Cover. This unisex Bible cover features a brown faux leather material that's durable, easy to clean, and resistant to wear and tear.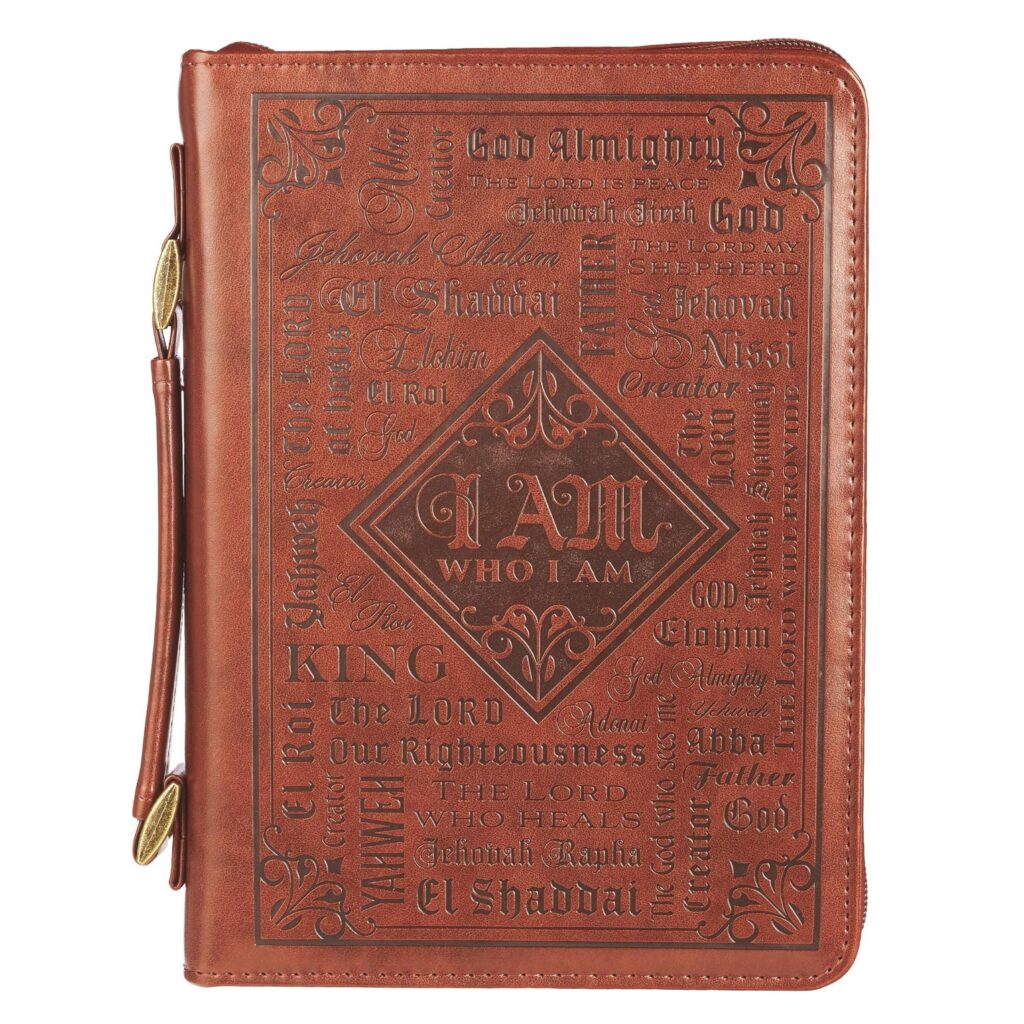 Additionally, the cover's leather is debossed with the different names of God, featuring His powerful Exodus 3:14 self-introduction dead center. Not only does it elevate the Bible cover's design, but it'll also give you a burst of inspiration whenever you pick up your Bible to read.
Christian Art Gifts makes its Bible cover in three sizes (medium to extra large), with all three featuring a handle for easy transportation. Inside, you'll find space for your pen and Bible, with a pen loop to keep your pen secure. Meanwhile, the cover's exterior features a slip pocket that can hold loose notes, church bulletins, etc.
Additionally, thanks to the cover's zipper, you can keep your Bible secure. Once enclosed in the cover, your Bible will stay safe and mishap-free. While dimensions vary, the large size of this Bible cover is 2.2 x 8.1 x 10.9 inches. It weighs 9.1 ounces and is also available in medium and extra-large.
Large Bible Covers for Men
Fish make many appearances in the Bible, the most memorable being how Jesus uses them to feed five thousand people. So if you loved that story (or know a guy who does), this Christian Art Gifts Poly-Canvas Bible/Book Cover for Men and Women w/Jesus Fish Badge would prove a hit. It features a stylish fish badge on the front reminiscent of the famous book of John story.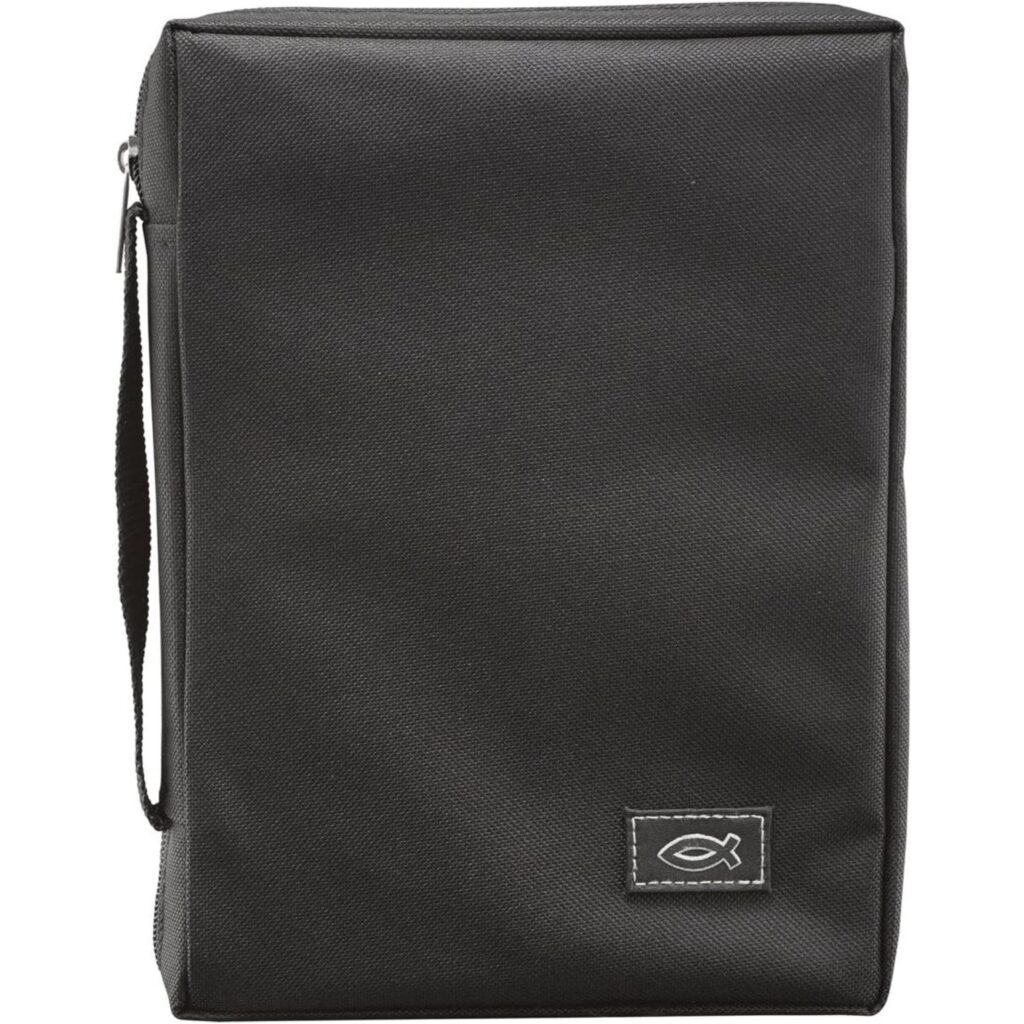 This Bible cover is made from poly-canvas material, making it highly durable and easy to keep clean. Moreover, its fashionable and unisex black appearance makes it an excellent gift for men and women, offering protection to Bibles in various sizes (XS to Large).
As one of the few large Bible covers for men on our list, Christian Arts' product also has the distinction of being waterproof. Also, it's roomy and provides space for accessories like highlighter pens. And its interior and exterior pockets provide extra storage space for your notes.
Regarding the protection this Bible cover offers, it has a secure zipper closure that'll seal your Bible away from danger. And when it's time to read, the Bible cover opens up all the way around for easy retrieval.
Compact Bible Covers for Men
This Personalized Custom Bible Cover for Men is an excellent gift for fathers, brothers, sons, Grandfathers, and Grandsons, featuring a faux leather exterior you can engrave their (or your) names on.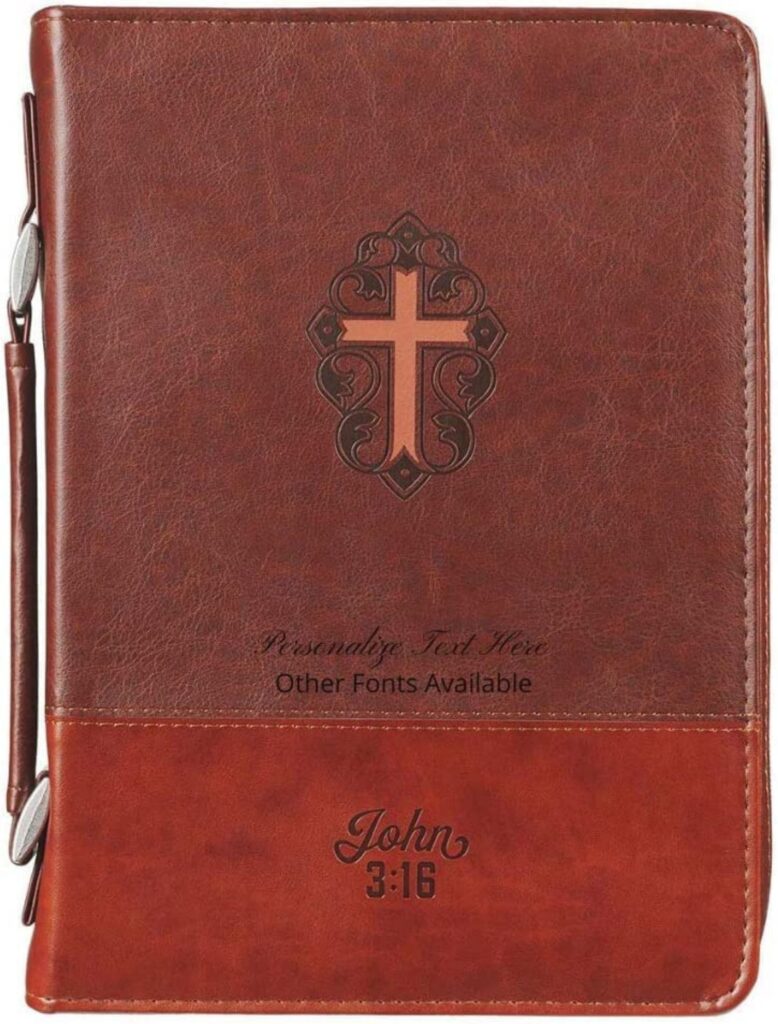 It's an incredibly classy cover, with an embellished cross and filigree border framing putting the icing on the cake. Moreover, the body has the scripture from John 3:16 embossed, while the topstitching along the seams gives it a look of strength and durability.
The Bible cover's interior has two pen loops for holding your writing utensils. Meanwhile, you can store notes and other paper-based items in a handy exterior slip pocket on the back of the cover. And when you close the cross-engraved zipper, you can rest assured your Bible will be safe from unfortunate accidents.
This Bible cover's dimensions are 6. 5/8 x 9. 5/8, and it has a 1. 3/4-inch thick spine. It has a lay-flat handle for ease of transportation when not in use. And if you're not fond of the fonts used on the cover, you can choose from a selection of different ones.
Western Bible Covers for Men
Do you know a Christian cowboy or someone who's really into westerns? This Western Natural Leather/Hair-On Bible Cover with Praying Cowboy Concho will make a perfect gift for them. It's one of the most stylish western bible covers for men, sporting a rugged exterior that hints at its durability.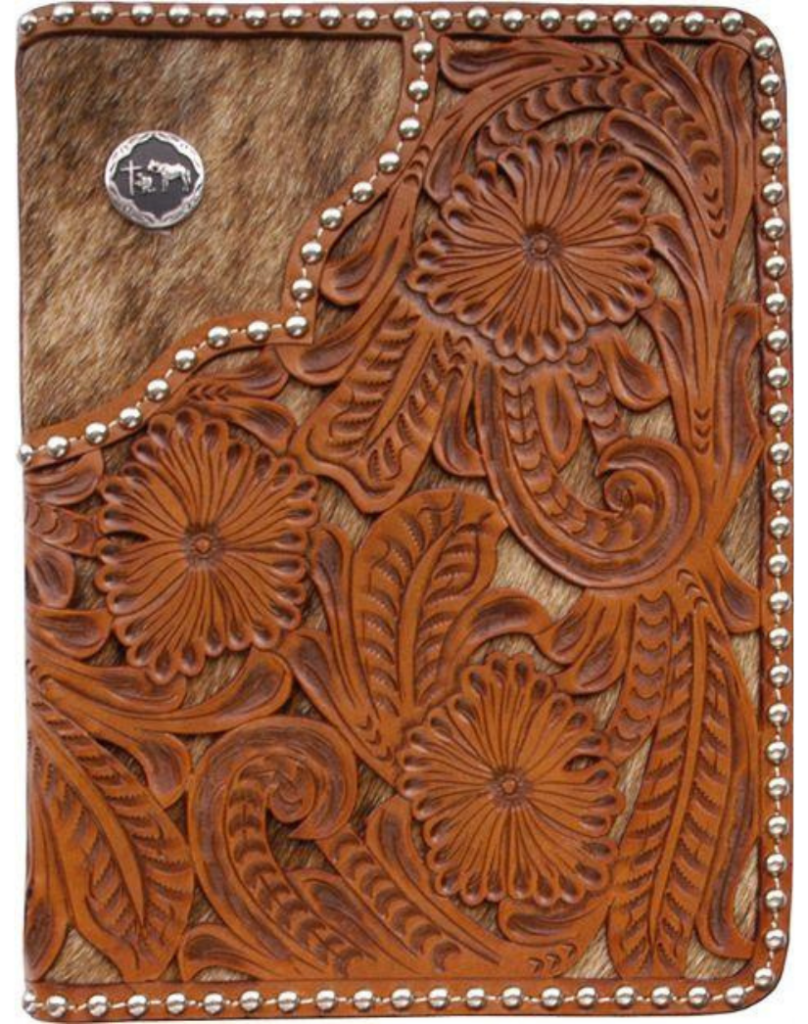 This Bible cover features a hair-on inlay and antique silver studs that line its perimeter. Moreover, it's overlayed with a beautiful natural floral filigree. And topping off the design elements is the cover's antique brown steel concho, which features a praying cowboy. They don't make western leather bible covers for men this stylish!
The Bible cover measures approximately 7 3/4 x 2 x 10 1/4 inches, meaning it can hold most medium-sized Bibles. Also, its zipper closure helps to protect your Bible from the elements, adding function to its stylish form.
While it doesn't have a handle, this Bible cover's design will make you want to take it with you while you're on the go. Its rustic design will be an excellent conversation starter at fellowship and after-service meet and greets.
Final Thoughts
With one of the Bible covers for men mentioned in the article, you should be able to keep your Bible in pristine condition.