28th March 2012, 03:22 PM
blind squirrel





Join Date: 7th January 2003

Posts: 14,336

Reps: 522,844,259,539,301,504

(power: 522,844,259,539,326)



Full Face Transplant
---
It looks a little bit odd at this point, but he hasn't had it very long, but what an improvement! The poor guy was shot in the face fifteen years ago. The picture below is him at high school graduation, him after the accident and him after the operation.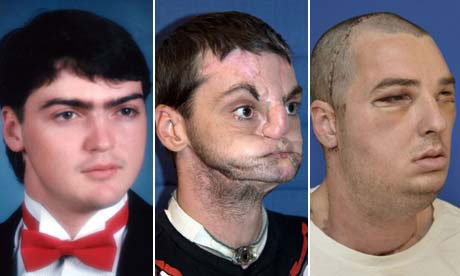 "This accidental injury just destroyed everything," said Rodriguez. "His friends and colleagues went on to start getting married, having children, owning homes. He wants to make up for all that."

The operation, which involved more than 150 doctors, nurses and other staff, was just part of a remarkable 72 hours in which surgeons also transplanted a heart, both lungs, a liver and a kidney from the same anonymous donor, to other patients. For Norris, the surgeons transplanted teeth, the upper and lower jaw, a portion of the tongue and all facial tissue from the scalp to the base of the neck.

The most dramatic moment, according to Rodriguez, came after the team had removed all previous attempts at reconstruction. All that was left was part of Norris's tongue and minimal protection for his eyes. That was the point of no return. "At this point we had to be successful."

Now, however, Norris's face will require only minor, outpatient procedures.
Face transplant man Richard Norris has 'life restored' | Science | The Guardian
__________________
- Daisy

If such people were amenable to facts, they would have gotten the point long ago...Whatever it is that is blocking the understanding of the "denialist", it is not access to facts or information. The blockage is most likely emotional, possibly based on fear, and one does not most effectively deal with emotional barriers by using facts as instruments of assault and battery. - Dan Murphy

You know your party is in trouble when people ask did the rape guy win, and you have to ask which one?