This blog will attempt to capture Redguard's efforts at trying to make sense of this strange world.
Episode 001 - Attack of the LOLCATZ
Lieutenants' bLog - Stardate 20080512
I was chilling out the other day, just minding my own business and keeping it REAL (as usual), when I got an email in my inbox from a random friend entitled "Funny Pics – LOL".
Now… people that I meet on the internet, especially those through this ChristianForums website, seem to have an interest in a lot of quirky things. Things like
Anal Sex
,
drinking their wives' breastmilk
, and
home-schooling their children
! But this email contained the ONE thing that really has me baffled. I just can't seem to wrap my head around it and I can't quite tell whether this is just a recent phenomenon to hit the net, or whether this is something that has been around for a long time while I've just been living under a rock...
Anyway, I'm referring to LOLCATZ. Perhaps you've heard of them?
As far as I can tell, these lolcatz things consist of images of peoples' cats, with some intentionally misspelled text captions around the picture attempting to mimic what the cat would be saying if it could speak. And for some odd reason, these captions are misspelled and grammared in a way to make the cats sound as though they're speaking with Chinese accents. Well, it's either a Chinese accent or they're trying to make their cats sound like Smeagol (Gollum! Gollum!). And everyone, save for myself; find these images to be hilarious. They are fanclubs all over the internet and even a social group on ChristianForums dedicated to them!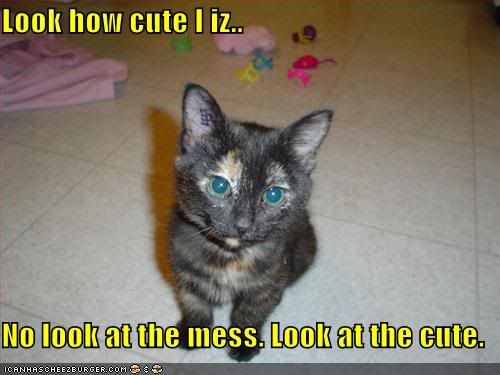 As you can tell from the image above, "cats" look like the distant relatives of Khajiits.
Khajiits
are a race of feline-looking humanoids on my home-planet that come from a country/province called Elsweyr (see map of Tamriel from
Episode 000
), not far from the land of Hammerfell, where Redguards come from.
Now... is it just a coincidence that the Khajiit also speak in the same tongue as the captions being used for these cat creatures? Take the name of their province, for instance. Elsweyr is pronounced "Elsewhere", but it's spelled in the same fashion as one would use in their ridiculous lolcatz image.
Personally, I have always been a fan of cleverly captioned images on the internet. If I ever find myself feeling bored or depressed, I know that I can always load up Google and do an image search on terms such as "I'd Hit It", "All your base are belong to us", or "Owned/Pwned" and find hundreds of images that will leave me laughing until I stain my shorts.
But there's something about these lolcatz that just miss the mark for me. Maybe it's because all the images are just.... cats. Or maybe it's because the captions are so overdone with the intentional spelling mistakes that it just numbs my brain and makes me forget to laugh.
So, of course, given the current popularity of these lolcatz images, I'm pretty sure that everyone and their mom has their digital cameras out, pointed at their cats, and are just
waiting
for their cats to do something stupid so that they can snap a picture of them, Photoshop it and then upload it to the net. The really desperate people are probably forcing their cats into poses and positions to help enable this so that they can have a few opportunities to take part in this moment in history before it goes out of style and tell their grandkids about it 40 years from now.
----------------------------------------------------
Grandmother
: I bet they're teaching you kids all about lolcatz in history class now. Did you know that when I was your age, I took part in the "icanhascheezburger" movement. During the war on Terror, back during the early 2000s, everyone was feeling sad and depressed. It was thanks to people like us that they were able to bounce out of their depression and find the silver lining in the clouds.
Grandkid
: Wow! Really?
Grandmother
: Absolutely! Youz haz vurry imp'otnt grandzmuzza
Grandkid
: Whut?
----------------------------------------------------
What I've learned is that, whenever running into a lolcatz fan, it's better to not inform them of how unfunny lolcatz are since this is likely to hurt their feelings. Instead, when they try to share their images with me, I'll just smile and nod. This will make them feel better, and this will help me end the torture much faster.
However, all this lolcatz stuff got me thinking about something. While changing Roseguard's diaper, I was looking at the facial expression that she was giving me and found myself wondering what she was thinking about. Naturally, this led to me scripting a few captions of my own in my head. If someone created a website for it, I suppose they'd call it lolbabiez.
At one moment, she had this look of mischief on her face. It almost looked as though she was thinking,
"If I could just aim properly and bear down the right amount of pressure...."
Comments
Posted 22nd May 2008 at 11:54 PM by

Sign Of The Fish Burger
Posted 4th June 2008 at 04:11 PM by

snoochface
Trackbacks
Recent Blog Entries by Redguard