This blog will attempt to capture Redguard's efforts at trying to make sense of this strange world.
Episode 000 - An Introduction
Posted 9th May 2008 at 12:46 AM by
Redguard
Hello. I am Redguard. And I'm really not who you think I am.
I am here, on mission, on behalf of the Hammerfell Intelligence Agency (HIA). My assignment is to collect information about your people, society, economy, and other things that are of interest to my superiors. One of my more pertinent observations is the liberal use of "blogs" and their effectiveness in collecting information and sharing it with others.
I plan on sharing my experiences and observations through a series of episodes, with this first entry being more-or-less a non-episode episode. If you can spare a few minutes, then sit back and allow me to offer you a bit of an introduction.
This world is not my original home. I have been here for almost 30 years and have learned many interesting things during my time here. In Earth terms, I live in Canada. It is a beautiful country filled with breath-taking scenery, interesting people… and high taxes.
While here on assignment, I have taken myself a mate who I will refer to as "Mrs. Redguard". She has birthed me two beautiful daughters. Pinkguard (5 years old) and most recently, Roseguard (soon to be 5 months).
I enjoy movies… especially the old-school dubbed-over Chinese Shaolin Kung-Fu movies. If "Five Deadly Venoms" means anything to you, then you know exactly what I'm talking about. My favourite tv show is LOST. It's the only show that I'll make time for when I'm not studying my backside off trying to earn a few extra letters behind my name. I love eating chicken wings drowned in Honey Garlic sauce while drinking Orange Soda.
Originally, I come from Nirn… a planet in a nearby solar system just a few light-years away. In fact, here on Earth, it's referred to as the "Alpha Centauri" system. The brightest star in that system is our sun.
Hammerfell
is the country that I originally called home. Back on the old planet, however, we refer to countries as "Provinces". It's located on the west side of the continent of Tamriel. Hammerfell, for the most part, is a barren and rocky place made up mostly of desert land. There are no chicken wings there. Fertile grassland is found predominantly on the coastline, which is where the major population centers are.
Another thing worth noting is that the name isn't really "Redguard". I have an actual name, but it's classified. Redguard is actually the name of my people. It's sort of like Green Lantern. That wasn't his name, but he was a member of the Green Lantern Corps and people simply referred to him as "Green Lantern".
There are other Redguards scattered around here and there and, like myself, they're working covertly on assignment. Some have chosen to live their lives in the spotlight and have been quite prominent figures known today and throughout history.
The first wave of operatives arrived in the mid-1600s and infiltrated themselves amongst the African slaves scattered across the Caribbean Islands (concentrating mostly in Jamaica and Cuba) in hopes that they would keep a low profile and remain unnoticed. Taking immediate notice of the injustices, the agents banded together and helped to shift the balance of power through organized rebellions. This group would later be known as
The Maroons
.
Sojourner Truth
arrived shortly afterwards, working in the United States, and was the first female Redguard to be awarded with a medal of distinction back at home.
Haile Selassie I
, a senior ranking Redguard, arrived here in the late 1800s and served as the emperor of Ethiopia throughout most of the 1900s. His legacy is still felt today as he is regarded as a religious icon to all those who follow the Rastafari movement around the world.
And for anyone who is familiar with Tupac Shakur… yup. He's a Redguard too. Unfortunately, due to his troublesome and unruly behaviour (and violations of the Redguard Code of Ethics), his assignment was cut short and other operatives had to stage an "incident" that was intended to convince those around the world that he had been killed. He is not dead. Rather, he is back on Hammerfell being court-martialled.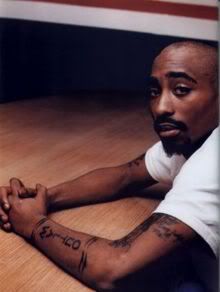 Now, this is just a short list of Redguards that I am at liberty to share with you. There are others that both keep a low profile and are public figures in society. (Please note that Jesse Jackson and Al Sharpton are
NOT
Redguards)
As I mentioned earlier, this was just a brief introduction, and I promise to shed more light on my background in future episodes. As for my assignment… well… we Redguards have all been given similar objectives. Three simple words…
MAKE A DIFFERENCE.
Comments
3
Comments
Posted 4th June 2008 at 04:13 PM by

snoochface
Posted 5th June 2008 at 04:14 PM by

Redguard
Posted 19th November 2009 at 02:09 AM by

jeeland
Trackbacks
Recent Blog Entries by Redguard