Hope everyone had a great Thanksgiving
Ended up having a great Thanksgiving myself. The only thing that would have made it better would be to have my son with me. It was his turn to spend with his father this year.
My dad came home for the holidays so it was a nice treat to see him. I got the day off from work which was a pleasant surprise. Spent the day cooking with my mom, which was some fun bonding. Got to try some new recipes and a fun centerpiece. Fiance was there and everything was tension-free with the family and a lot of fun.
A few pictures...
The Centerpiece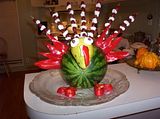 Pumpkin Cheesecake I made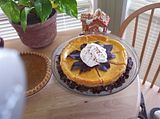 Some food - Spiced Apple Rings, Tomato and Onions in Marinade, Sweet Potato Casserole, Corn on the Cob, Black Olives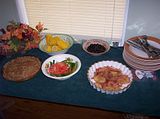 More food - The Turkey, Gravy, Dressing, Mashed Potatoes, Corn Casserole, Carrot Souffle, Broccoli Casserole, and Rolls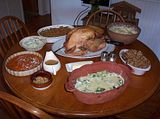 Dessert Table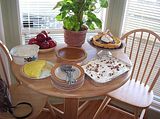 Comments
1
Comments
Posted 29th November 2010 at 03:49 AM by

JCFantasy23
Trackbacks
Recent Blog Entries by JCFantasy23